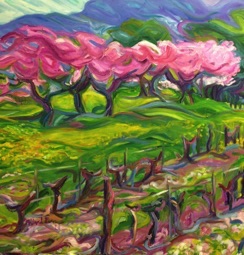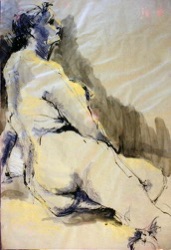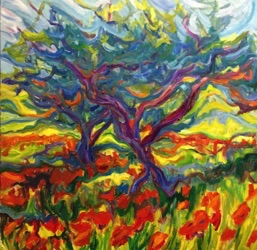 Catherine Gaillard-Perez, borned in July 1962 in Paris, first attended the «Ecole Supérieure des Arts Appliqués» in Paris, where she studied art and devoted most of her time to drawing. Then, she enrolled in the « Académie de Port Royal» which gave her the opportunity to hone her painting skills under Jean-Maxime Relange and Arlette Le More.
In 2001, she was awarded with « Le Grand Prix de Peinture de l'Académie de Port-Royal. »
Her work is regularly seen in solo exhibitions in Paris, as well as France and abroad :
Since 1992, She also participates in group exhibitions in FRANCE and abroad:
AUSTRIA, BELGIUM, BIELORUSSIA, BULGARIA, CHINA, GERMANY, HUNGARY, ITALY, MEXICO, JAPAN, LEBANON, PORTUGAL, SPAIN, UK, USA
and is the recipient of several prizes and awards.
-Professor of Drawing and Painting at the «Academie de Port Royal »in Paris (until 2017)
-Societary of Fondation Taylor
-Vice President of Salon Dessin et Peinture à l'eau -Paris- in charge of foreign delegations

-Invited to undertake a 2 months artist residency in Ningbo Museum of Art, CHINA (sept-oct 2018)
A studio presentation, a lecture at Ningbo Polytechnic and a solo exhibition in the Museum were part of the program.
The NMA also selected 2 artworks for the museum's permanent collection.
« Dear friends, good afternoon
First, please allow me, on behalf of Ningbo Museum of Art, to congratulate on Catherine Gaillard Perez's personal exhibition "Days and Nights" which opens today.
Catherine is a passionate artist. Her artworks come from the basic grasp of bodies, and perfectly aligns bright colors and beautiful lines, which give her paintings fascinating atmosphere.
No matter it's about portraits, kites or natural sceneries, the artist always paints what she sees and feels.
The inspirations of her "moon and woman" series are from the first Mid-Autumn Festival she spent at our museum. It is the same around the world that when we are at a foreign place and when we look at the moon, we would think about our hometown. We would dance, pray and make a wish. These are all the most basic feelings of humanity.
For her line drawings of portraits, the artist took the experiences from the similar line drawings in traditional Chinese paintings. They reflect her confidence and elegance.
I think, she integrates her French passion into the posture, lines and colors of her works, which make her paintings stunning and inspiring.
In the end, let's again congratulate Catherine on her successful exhibition. And thank her for her art creation and showcase at our museum ».
Speech given by Zhang Wei Ping, Vice director of the Ningbo Museum of Art - CHINA
On the opening reception of Catherine Gaillard Perez's exhibition  2018/10/23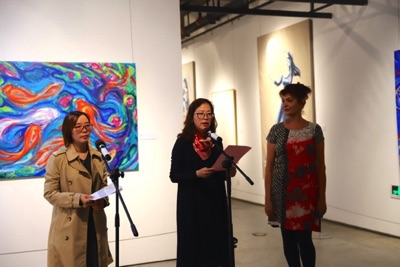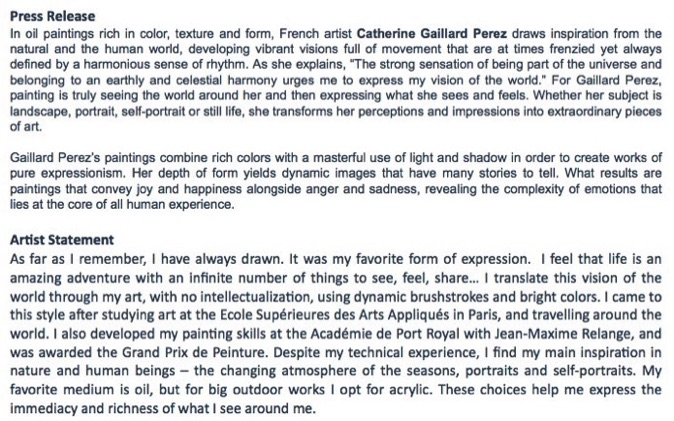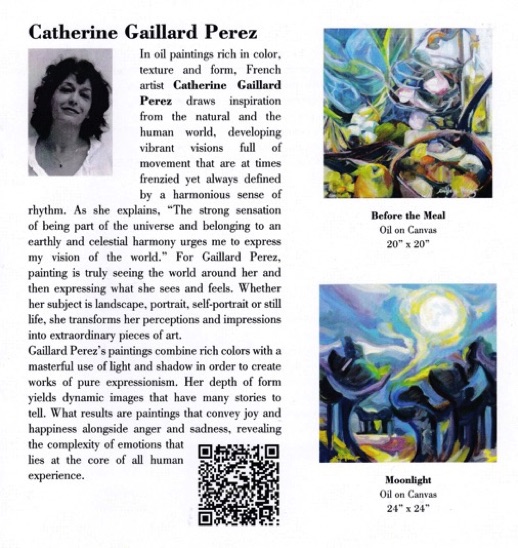 "Catherine Gaillard-Perez -  in perfect tune" -
When an artist's work is in tune with his life, it cannot be equalled since it is an authentic reflect of the artist himself.
There is no subterfuge in Catherine Gaillard-Perez's paintings.  Everything is easy. Her black eyes permanently wide open to humanity ready to translate her personal vision of life's existence.
Catherine paints in the way she cooks; she brings up her children in the way she paints; she paints in the way she lives: with happiness and joy, with enthusiasm and generosity.
For a work of art to exist it needs a personal view-point.  Catherine Gaillard-Perez's straightforward interpretations always manifest this personal  view.
By Jean- Maxime Relange
« Catherine Gaillard Perez doesn't just love color, she thrives on it. In her landscapes inundated with sunshine, shades of blue, green and orange are virtually swept away by opposing forces- sometimes violent, sometimes orderly and measured. We find this same chromatic harmony in her indoor family scenes or mauve-colored nudes. With one energetic stroke of the brush, the artist imposes rhythm and movement on nature, which she aims to study with great sensibility.
Catherine Gaillard Perez thus displays her taste for happiness - a joy she willingly and openly knows how to share with us.
By Françoise Coffrant - «Artistes».
« Canvases are swept away in a wild frenzy of vibrant strokes and vigorous chromatics, recomposing reality and landscapes. This artwork is filled with passion, extolling shapes and colors felicitously. Catherine Gaillard-Perez thus communicates her fairytale world, an almost dream-like vision of all that surrounds her. She takes relish in expressing the essential, singing the rhythm of nature, translating the wind by painting furiously agitated trees under stormy skies. She also delights in capturing plenty of red- and white-speckled carps dancing in the middle of whirling green waters. Her artwork is overflowing with generosity and illuminated by an entire palette of myriad bright colors. The infinite movements of life and nature are what interest this passionate and spirited artist the most. Off the beaten track, her lively artwork is thoroughly captivating".
By Nicole Lamothe  «Univers des Arts» n° 127
"Movement, vivaciousness, color – every composition supports her style of painting. With controlled freedom, the artist lets her enthusiasm run freely, as well as her personal view on life and nature. We can perceive a permanent vibration in this most generous and joyous artwork, skillfully painted with dynamic, sometimes enraptured brushstrokes. Catherine Gaillard-Perez relishes her paintings in every way, expressing heartfelt passion with wonderful authenticity. Light shines through everything: the rolling landscapes, whirling dances, and twirling goldfish enhanced by a vivid palette of bright reds, greens and whites.  Her paintings give us the chance to escape into the artist's dream-like world that starts in fact with reality."
By Nicole Lamothe  «Univers des Arts » Fondation Taylor n° 128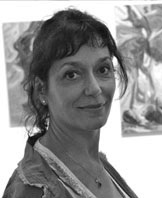 ...« From my point of view Painting is synonym of life – a journey along which one tries to approach something in an attempt to turn everything into one.
From my years spent at the Académie de Port-Royal I have essentially cultivated a learning to look, to see…..above all to apprehend the art of drawing and painting.
To learn to see, one should forget what one knows in order to constantly discover or re-discover with humility and sincerity subjects such as the still-life or working from the human figure.
Analyzing each object, elements of nature or human beings with a new eye, trying to capture their force and energy and trying to translate with a new energy named line and color.
It needs patience not to want to advance too fast and give in to any easy conclusions or to be satisfied and comforted with one's results… the road is not necessary a straightforward one.
It is only when the eye is trained that things begin to develop. The route cannot be taken backwards: rigor, rigor… then one day… more easiness !
When one's personal view expands one should not believe one has "got there". Your journey has no visible end – that is what gives it it's mystery and it's beauty.
On the road to Painting, let's take care to permanently keep our eyes open to life. Let's keep intact our curiosity and the faculty to be touched and moved by the infinity of the existence surrounding us.»
Catherine Gaillard Perez
Académie de Port Royal «The Painting and Drawing professors»